Feel like home
2016
Framed photograph printed on Hahnemule Rag Satin 310g, 50x50cm
Two A0 posters printed on 110g paper
Collaboration with Carlos Carbonell

Hello, and welcome ! We're Marion and Carlos, and we'd like your stay to be unforgettable. Our aim is to provide you a real « feel like home » experience.

How does it feel to enter a room that is tailored so specifically for you that it becomes disconcerting?
How does it feel to experience this while you re travelling and trying to disconnect from your everyday life ? Could it be the blueprint for a new kind of futuristic hotel ? Or is it a traveler's nightmare ? Based on the information provided by our guests' social network profiles, we deliver them a personalized room in order for them to «feel like home».
(fr) Quel effet cela fait-il d'entrer dans une chambre qui est supposément décorée "pour vous" - au point que cela en devient inquiétant ? De quelle manière se vit cette expérience lorsqu'elle est déconnectée de votre quotidien ? Avons-nous ici la formule d'un nouveau genre d'hôtel - ou le cauchemar de tout.e voyageur.euse ? En nous basant sur les informations divulguées par les comptes Facebook et Airbnb de nos invité.es, nous personnalisons leur chambre afin qu'iels se sentent "comme à la maison".
Paola est colombienne, aime les Jack Russell, Mafalda, le Petit Prince, U2, elle est chrétienne pratiquante et partage de nombreuses citations inspirationnelles sur son mur facebook. Lorsqu'elle découvre la décoration de la chambre, elle nous remercie pour cette attention mais affiche un regard inquiet en découvrant, sur la table de nuit, une photo encadrée de ses parents.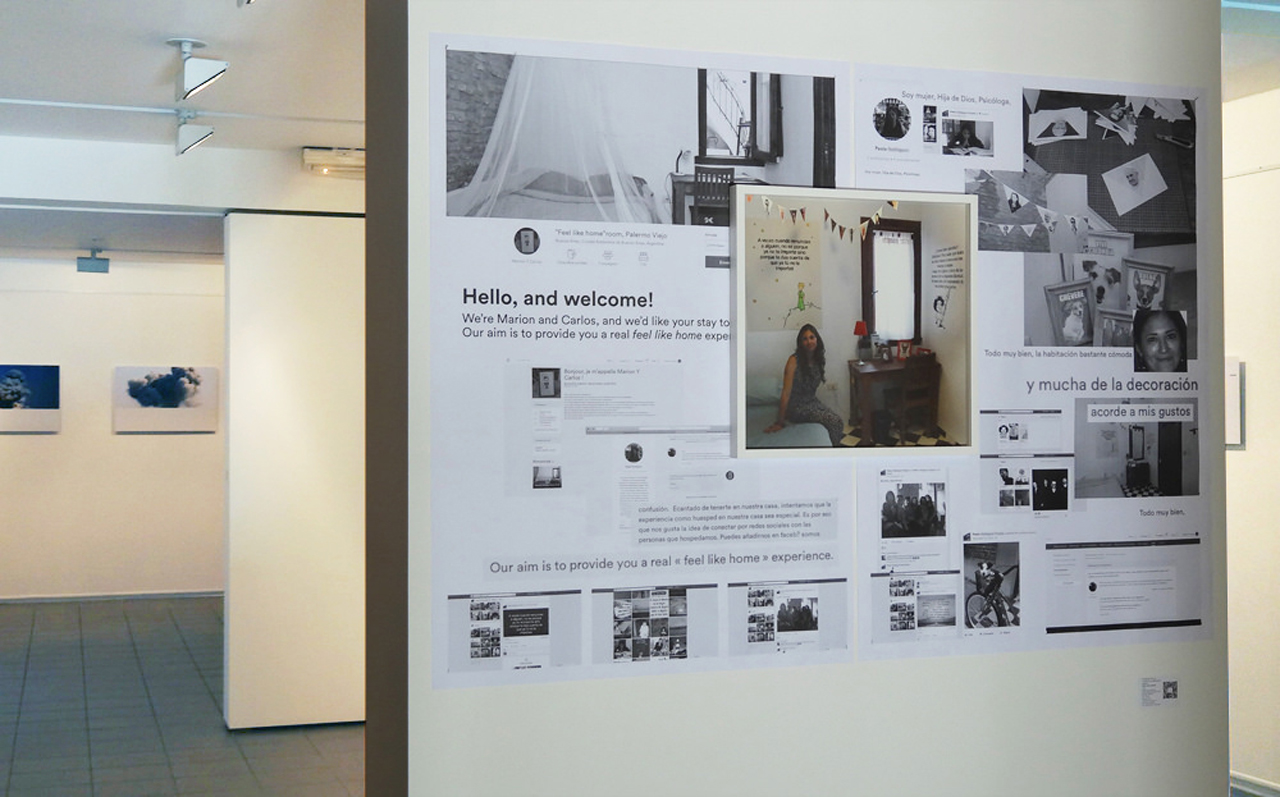 Variation media art fair exhibition view, Cité internationale des Arts, Paris, 2016.